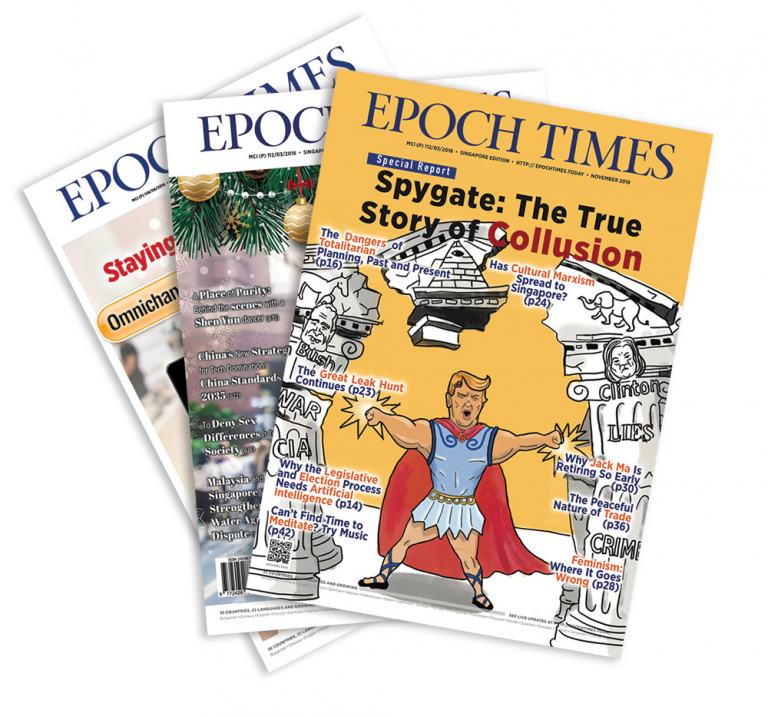 Our English Epoch Times Newspaper is available in all Kinokuniya stores in Singapore and other selected outlets.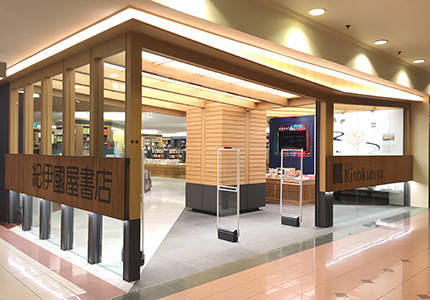 Kinokuniya (Takashimya)
391 Orchard Road #04-20/20A/20B/20C/21
Takashimaya S.C., Ngee Ann City
Singapore 238872
Kinokuniya (Bugis Junction)
200 Victoria Street
#03-09
Bugis Junction
Singapore 188021
Kinokuniya (JEM)
50 Jurong Gateway Road
#04-23 Jem
Singapore 608549
HAO megamart (TheGrandStand)
200 Turf Club Rd, #01-01
Singapore 287994
Eccellente by HAO mart (Westgate)
3 Gateway Dr, #B2-01
Singapore 608532
Eccellente by HAO mart (Capitol Singapore)
13 Stamford Rd, #B2-12
Capitol Singapore
Singapore 178905
Eccellente by HAO mart (KINEX)
11 Tanjong Katong Rd,
#B1-36
Singapore 437157
Also look out for the English Epoch Times at Esso Stations at East Coast, Upper Changi North, Upper Bukit Timah and Holland.
Also available at:
1) Thambi Magazine Stall @ Holland Road Shopping Centre
2) Jaf Trading @ Paragon
3) Deen Express @ 313 Somerset
4) Readmore Bookstore @ Kentridge
Love to receive it monthly in your mailbox? Subscribe to us today!
More Sales Locations:
North
154 Woodlands Street 13 #01-K1 S730154
326 Woodlands Street 32 #01-117 S730326
355 Woodlands Ave 1 #01-707 S730355
548 Woolands Dr 44 #01-30 S730548
691 Woodlands Dr 73 #01-06, S730691
892C Woodlands Dr 50 #01-01 S730892
895B Woodlands Dr 50#01-24 S730895
115 Canberra Walk #01-06 S750115
306B Canberra Road #01-01 S750306
505 Canberra Link #01-01 S750505
101 Yishun Ave 5 #01-61 S760101
104 Yishun Ring Rd #01-25 S760104
123 Yishun Street 11 #01-503, S760123
160 Yishun Street 11 #01-208 S 760160
239 Yishun Ring Rd #01-1150 S760239
Yishun MRT (IWEEKLY) S760275
291 Yishun St 22 #01-389 S760291
333C Yishun St 31 #01-165 S760333
417 Yishun Ave 11 #01-325 S760417
425 Yishun Ave 11 #01-562 S760425
431 Yishun Ave 1 #01-02 S760431
507 Yishun Ave #01-09 S760507
605 Yishun St 61 #01-313 S760605
645 Yishun St 61 #01-328 S760645
716 Yishun St 71 #01-250 S760716
729 Yishun St 71 #01-103 S760729
748 Yishun St 72 #01-224 S760748
779 Yishun Ave 2 #01-1541A S760779
807 Yishun Ring Rd #01-4207 S760807
269A Yishun Street 22 #01-511 S761269
920 Yishun Ave 2 #01-07 S769100
467B Fernvale Link #01-531 S792467
6 Jalan Selaseh Singapore 808435
22 Begonia Road (Begonia Minimart-NewEcon) S809810
East
306 Ubi Ave 1 #01-191 S400306
314 Ubi Ave 1 # 01-K1 S400314
350 Ubi Ave 1 #01-945 S400350
216 Joo Chiat Rd #01-05 S427483
239 & 255 E Coast Road (Esso Station) S428932
10 Haig Rd #01-357B S430010
7 Jalan Batu #01-97 S431007
11 Tanjong Katong Rd #B1-36 KINEX S436950
34 Marine Cres #01-49 S440034
58 Marine Terrace #01-43 S440058
85 Marine Parade Ctr #01-658 S440085
15 Siglap Road #01-01 Mandarin Garden S448912
121 Upp East Coast Rd S455245
16 Bedok South Rd #01-70 S460016
84 Bedok North St 4 #01-59 S460084
122 Bedok North St 2 #01-124 S460122
510 Bedok North Street 3 #01-33 S460510
538 Bedok Nth St 3 熟食中心报摊 S460538
539 Bedok North St 3 #01-645 S460539
21 Chai Chee Road #01-442 S461021
26 New Upper Changi Rd #01-664 S462026
57A New Upp Changi Rd #01-1378 S462057
29 New Upper Changi Rd #01-772 S464029
311 New Upp Changi Rd #02-01A Bedok Mall S467360
632 Bedok Reservoir Road #01-810 S470632
54 Bayshore Rd #01-07/08 S469979
121 Bedok Reservoir Rd #01-200 S470121
955 Upper Changi Road North (Esso Station) S507662
220 Pasir Ris St 21 #01-170 S510220
230 Pasir Ris St 21 #01-44 S510230
567 Pasir Ris St 51 #01-100 S510567
625 Elias Rd #01-302 S510625
763 Pasir Ris St 71 #01-240 S510763
Pasir Ris Bus Inter-Change S519490
137A Tampines St 11 #01-K1 S521137
138 Tampines St 11 #01-108 S521138
139 Tampines St 11 #01-22 S521139
210 Tampines St23 #01-K1S 520210
343 Tampines St 33 #01-318 S520343
351 Tampines St #01-472 S520351
406 Tampines St 41 #01-11 S520406
878 Tampines Ave 8 #01-318 S 520878
878C Tampines Ave 8 #01-65 S520878
934 Tampines St 91#12-343 S520934
935 Tampines St 91#01-K1 S520935
201A Tampines St 21 #01-1059 S521201
233 Tampines St 21 S521233
742A Tampines St 72 #01-02 S521742
256 Tampines St 21 #01-K1, S522256
496G Tampines Ave 9 #01-500 S523496
230 Tampines St 24 #01-K1 S524230
201E Tampines St 23 #01-82 S527201
6 Hougang Ave 3 (Fruit Stall) S530006
102 Hougang Ave 1 #01-1191 S530102
124 Hougang Ave 1 #01-1432 S530124
302 Hougang Ave 5 #01-K1 S530302
322 Hougang Ave 5 #01-72 S530322
356 Hougang Ave 7 # 01-801 S530356
440 Hougang Ave 8 #B1-1567 S530440
511 Hougang Ave 10 #01-149 S530511
523 Hougang Ave 6 #01-117 S530523
539 Hougang St 52 B1-48 S530539
602 Hougang Ave 4 #01-K1 S530602
620 Hougang Avenue 8 #01-274 S530620
635 Hougang Avenue 8 #01-K1 S530635
809 Hougang Central #01-184 S530809
919 Hougang St 91 #01-457 S530919
911 Hougang St 91 #01-58 S530911
267 Compassvale Link #01-01 S540267
303 Anchorvale Link 01-04 S540303
308 Anchorvale Rd #01-01 Multi S C P S540308
330 Anchorvale St #01-01 S540330
215C Compassvale Dr #01-01 S543215
218 Sumang Walk #01-01 S820218
261 Punggol Way #01-02 S820261
658 Punggol East #01-01 S820658
308C Punggol Walk #01-352 S823308
Central
640 Rowell Road #01-64 S200640
8-10 Verdun Road S207276
139 Jalan Besar #01-01 Singapore 208857
62 Desker Road Singapore 209587
46 Owen Road #01-287 S210046
662 Buffalo Road #01-26 S210662
665 Buffalo Road (Street Stall) S210665
290 Orchard Road #B1-19 The Paragon S238859
391 Orchard Road Level 4 Ngee Ann City (Kinokuniya) S238872
313@Somerset Level B3 S238895
44 Holland Drive #01-17 (Market) S270044
174 Holland Road (Esso Station) S278582
211 Holland Avenue #01-K4 Holland Road Shopping Centre S278967
200 Turf Club Rd #01-01 (Grandstand) S287994
125 Toa Payoh Lor 1 #01-547 S310125
175 Toa Payoh Lor 2 #01-551 S310175
190 Toa Payoh Ctl #01-560 (next to Bossini) S310190
203 Toa Payoh North #01-1115 S310203
216 Toa Payoh Lor 8 #01-607 S310216
234 Toa Payoh Lor 8 #01-274 S310234
74 Whampoa Drive #01-332/334/336 Singapore 320074
90 Whampoa Dr Hawker Ctr #01-91 S320090
112 McNair Road #01-205 S320122
122 McNair Road #01-41 S320122
17 Jalan Tenteram #01-128 S321017
116B Jalan Tenteram #01-02 S320116
34 Whampoa West #01-07 S330034
44 Bendemeer Rd #01-1450 S330044
45 Bendemeer Rd #01-1445 S330045
120 Potong Pasir Ave 1 #01-812 Singapore 350120
82 Macpherson Lane #01-11 S360082
8 Upper Boon Keng Road #01-01 S380008
11 Upper Boon Keng #01-925 S380011
16 Upper Boon Keng Road #01-1089 S380016
4 St George's Rd, Singapore 328024
997 Serangoon Rd, Singapore 328152
53 Sims Place #01-162 S380053
113 Aljunied Ave 2 #01-29 S380113
119 Aljunied Ave 2 #01-K5 S380119
134 Geylang East #01-221 S380134
43 Geylang Lorong 25 S388309
32 Lorong 11 Geylang Road S388724
448 Geylang Road #01-01 S389407
34 Cassia Crescent #01-74 S390034
153 Serangoon North Ave 1 #01-486 S550153
181 Ang Mo Kio Avenue 5 #01-2926 S560181
202 Ang Mo Kio Ave 3 #01-1666 S560202
232 Ang Mo Kio Ave 3 #01-1214 S 560232
332 Ang Mo Kio Ave 1 #01-1885 S560332
409 Ang Mo Kio Ave 10 #01-41 Food Centre S560409
465 Ang Mo Kio Ave 10 #01-1064 S560465
505 Ang Mo Kio Ave 8 #01-2682 S560505
555 Ang Mo Kio Ave 5 #01-1942 S560555
562 Ang Mo Kio Ave 3 #01-3493 S560562
121 Bishan St 12 #01-91 S570121
282 Bishan St 24 #01 S570282 (Opposite Cheers)
320 Shunfu Rd #02-17 S 570320
151A Bishan St 11 #01-01 S571151
231 Upper Bukit Timah Road (Esso Station) S588183
South
Raffles Place MRT Exit A S048618
People's Park Complex S058357 (Side Entrance near MRT)
Outram Park MRT Station #B3-01 (Exit H) S059816
102 Spottiswoode Park Road S080102
265C New Bridge Rd #01-K1 S088745
91 Telok Blangah Street 31 #01-02/03/04 S101093
78B Telok Blangah Street 32 #01-18/19 S102078
1 Lower Kent Ridge Rd #02-07/08 One@Kentridge S119082
306 Clementi Ave 4 #01-449 S120306
345 Clementi Ave 5 #01-78, S120345
353 Clementi Ave 2 #01-155B S120353
411 Commonwealth Ave West #01-3075 S120411
431 Clementi Ave 3 #01-320 S120431
Clementi MRT Exit A Bus Stop Singapore 129588
88 Tanglin Halt Road #01-01 S141088
162 Mei Ling St #01-351 S140162
78 Redhill Lane #01-09 S150078
106 #01-47 Hendersen Crescent Singapore 150106
75D Redhill Road #01-92 S154075
13 Stamford Road Capitol Piazza B2-12 to 21 S178905
200 Victoria Street #03-09 Bugis Junction (Kinokuniya) S188021
90 Bras Basah Road (Esplanade Xchange) B1-13 to 17 S189562
180 Bencoolen St #01-42 S189646
13 North Bridge Road #01-3988 S190013
West
130 Jurong East St 13 #01-225 S600130
202 Jurong East St 21 #01-119B S600202
282A Toh Guan Rd #01-02 S601282
3 Gateway Dr B2-01 (Westgate) S608532
50 Jurong Gateway Rd GEM #04-23 (Kinokuniya) S608549
2 Jurong East Central 1 JCube S609731 (Outside NTUC FairPrice)
Chinese Gdn MRT #01-01 S609959
502 Jurong West Avenue 1 S640502 (Newspaper Stall)
838 Jurong West St 81 #01-K1 S640838
301 Boon Lay MRT #01-17 S649846
291B Bukit Batok Street 24 #01-39 S653290
347 Bukit Batok St 34 #01-268 S650347
Bukit Gombak MRT #01-07 S659083
205 Petir Road #01-595 S670205
435 Bukit PanJang Ring Road #01-681 S670435
Hillview MRT Station Exit B (888 Minimart) S678107
2 Teck Whye Avenue #01-K1 S 680002
16 Teck Whye Lane #01-121 S 680016
26 Teck Whye Lane #01-188 S 680026
141 Teck Whye Lane #01-249 S 680141
144 Teck Whye Lane S 680144
205 Choa Chu Kang Central #01-K1 S680205
787A Choa Chu Kang North 6 #01-239 S680787
810 Choa Chu Kang Ave 7 #01-01 S681810
817 Keat Hong Link #01-14 S681817